Want to Make Extra Money Now?
KashKick

: Get paid per survey through this link with one of the highest-paying survey sites on the web.
Albert: Want to get spotted a $150 for free? Albert will spot you $150 when you join. There's no catch. This bank account is legit and only takes two minutes to

sign up for an account

.
Hate student loan payments? I've got good news for you if you have high-interest student loans.
Student loan refinancing allows you to adjust the interest rate and repayment terms on your private OR federal student loans by taking out a new loan that pays off some or all of your existing student loans. This new loan has a much lower rate, which can save you thousands over the life of your repayment terms
But what companies refinance student loans? You can refinance student loans through a number of companies (see the full list here).
Why should you refinance your student loan debt?
Wondering you even need to refinance high interest student loans?
It's simple to check your rate and can save you a lot of money.
There are a lot of competing student loan companies and that's good for you if you are interested or want to refinance high interest student loans. That means you can get the best possible interest rate which can save you a lot of money. The average user saves $18,668 when refinancing. You can check your rate for all of the lenders on this page in under 3 minutes.
If you have a high-interest rate on your student loans.
Fortunately, for many graduates, refinancing can be a great opportunity to help with loan payments. If you have federal or private student loans with an interest rate over 4%, then refinancing them will save you a lot of money. Student loans with 6.8% interest rates mean that you'll need to pay $586 a month in interest alone for every $100,000 you owe. You could also refinance your student loans to a longer term to help lower your monthly payments.
If you don't qualify for public student loan forgiveness.
Public student loan forgiveness (PSLF) was created in 2007 in order to encourage graduates to pursue full-time work in public sectors including nonprofits and government organizations. If you are working in one of these fields, and have been consistent with your payments, it's best to weigh your options and see if refinancing or PSLF will save you more money over the life on your student loan.
How to find out what your new rate would be?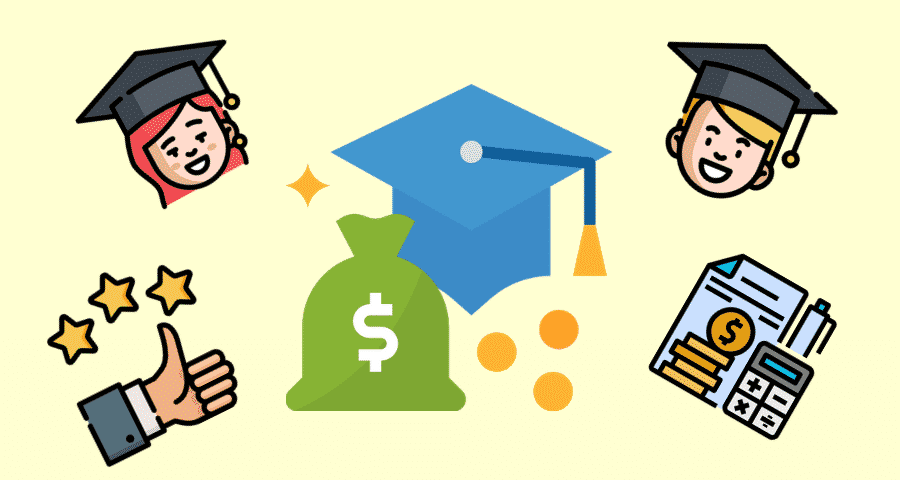 If you are interested in refinancing student loans, it's simple to check. Here are our top 5 picks for refinancing student loans. You can get your new rate in under 2 minutes by visiting the site:
Lender
Variable APR
2.47

%

 to 6.99

%

2.47

%

 to 8.03

%

2.95

%

 to 6.37

%

2.48

%

 to 6.25

%

Loan Types

Variable & Fixed

Variable & Fixed

Variable & Fixed

Variable & Fixed

Variable & Fixed

Terms

5, 7, 10, 15, 20

5 to 20

5, 7, 10, 15, 20

5, 7, 10, 15, 20

5, 7, 10, 15, 20

Eligible Degrees

Undergrad 




& Graduate

Undergrad 




& Graduate

Undergrad 




& Graduate

Undergrad 




& Graduate

Undergrad 




& Graduate

Eligible Loans

Private & Federal

Private & Federal

Private & Federal

Private & Federal

Private & Federal

 
Would you qualify for student loan refinancing?
Now in 2019, more than ever, various private lenders are helping student loan borrowers refinance at lower rates and save thousands of dollars in interest — that is, borrowers with good credit.
Before you decide if student loan refinancing is right for you, you should check to see if you would qualify.
Here are some common eligibility requirements:
Must have a good credit score.
Each lender will have a different credit score requirement, but typically you'll want to have a credit score of 700 or above.
Definitely should have a college degree.
You should have graduated with an associates' degree or higher from a Title IV school.
You should be employed or have a job offer.
Most lenders require that you are employed or have sufficient income from other sources, or have an offer of employment to start within the next 90 days.
Good Repayment history
You'll want to be current on your bills, credit cards, and other loans, including student loans.
*Once you have determined that refinancing your student loans is right for you, we would recommend reviewing your credit report. You can get your credit report for free by using AnnualCreditReport.com or Credit Sesame. If there are any discrepancies on the report, dispute them. This could improve your score and, in turn, improve the terms of the loan.
Lender
Variable APR
2.47

%

 to 6.99

%

2.47

%

 to 8.03

%

2.95

%

 to 6.37

%

2.48

%

 to 6.25

%

Loan Types

Variable & Fixed

Variable & Fixed

Variable & Fixed

Variable & Fixed

Variable & Fixed

Terms

5, 7, 10, 15, 20

5 to 20

5, 7, 10, 15, 20

5, 7, 10, 15, 20

5, 7, 10, 15, 20

Eligible Degrees

Undergrad 




& Graduate

Undergrad 




& Graduate

Undergrad 




& Graduate

Undergrad 




& Graduate

Undergrad 




& Graduate

Eligible Loans

Private & Federal

Private & Federal

Private & Federal

Private & Federal

Private & Federal

 
Best Money Saving Apps
App
Description
Capital One Shopping
★★★★★
Amazon doesn't want you to know about this plugin. Learn about a little known plugin that tells you if you're getting the best price on Amazon.


More

Rakuten
★★★★★
Rakuten is a must-have. They offer cash back as high as 10% for some stores. So if you are shopping at Target and you buy something for $500, you'll get $50 in cash back.


More

Ibotta
★★★★★
Ibotta is a free app that allows you to earn cash back both in-store and online. It is well worth the little bit of time it takes to download, configure, and use.


More